Here is a great email from one of our customers: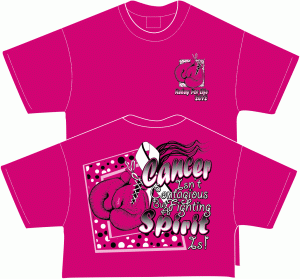 In June 2012, my co-workers and I formed a Relay For Life team for the Fayetteville branch of Redstone Federal Credit Union. We honored my mom. My niece, Kaleigh Howell, is a wonderful artist who designed the t-shirts NDesigns made for our team. Mom was so proud of her! As many of you know, Mom was an artist, also!
In May 2011, my mother, Sheri Spencer, was diagnosed with small-cell lung cancer. The news hit my family and me like a ton of bricks. We couldn't believe the news. There is NO cure.
I will never forget the day Dr. Cobb told Mom, "Sheri, if you don't opt to do chemotherapy, you might as well go fishing." When it gets really quiet, those words still ring in my ears, and my mind goes back to that moment.
Mom opted for chemotherapy, and a week later, she underwent her first treatment. She felt well and handled the treatments with exceptionality. The chemo shrunk her cancer, but when the treatments ended, she had no energy.
A year later, in May 2012, we learned her cancer was back. It had spread all over, and her oncologist said she could try a clinical study or opt for hospice care. After probing the oncologist with questions regarding a clinical study, she decided against it. She wanted to enjoy the time she had left with us, her family.
When our brother, Jody, found out Mom was going on hospice, he called and told her to pick a place she wanted to go and he would take her there. She said, "Take me to Iowa." That's where she was raised. She knew she needed to say goodbye to family and friends.

We lost my precious mother on August 14, 2012. She will forever always be in the hearts of her family and friends. Her fighting spirit was incredible, and it will live on in the lives of her family and friends forever!
Thanks for making the day special.
Katy Gatlin