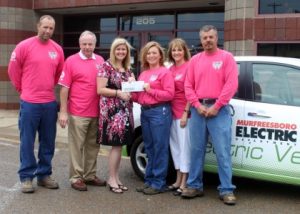 Electric Lineman Rodeos are held annually around the country for line workers who want to showcase their talents in friendly competition. Every participating utility company comes up with a design that represents their company on a shirt. Murfreesboro Electric Department (MED) participated in the Lineman Rodeo again this year, and once again, I came up with the design that went on the shirts our employees wore.
This year, I decided to try a tribal design since it seems to be very popular, especially with younger folks. Once everyone agreed on the design, one of our employees had the idea to do a fundraiser for the American Cancer Foundation (ACF) using donations made for our shirts. This was great idea that had never been done at the rodeo, and since we lost a long-time employee to cancer a couple of years ago, it was well-received throughout the company. Since the shirts were going to support the American Cancer Foundation, it was suggested that they should be pink. The shirt's color was agreed upon after one of our female employees stated that "Real Men Wear Pink."
NDesigns worked their magic and created one of the sharpest and most popular shirts we have ever worn in the rodeo. We ordered extra shirts to take to the Tennessee Valley Lineman Rodeo (TVLR) in Clarksville to give to people who made donations to the ACF, but we soon found we had not ordered nearly enough. We were overwhelmed with the number of people wanting the shirts, and for a donation, we even gave some people the shirts off our backs. In the end, making a donation to such a worthy cause was a great feeling. Thanks for all of your help, NDesigns. We couldn't have done it without you.
Jim Fuller
Safety Director
Murfreesboro Electric Department