Forget the traditional means of advertising.
Our Graphic Wraps, Decals and Lettering services use high-quality material and equipment to create the most brilliant and colorful wraps for your business vehicles along with boats!
A car wrap can be placed on cars, trucks, boats, helicopters airplanes, buses, trailers, trains, or entire fleet of vehicles.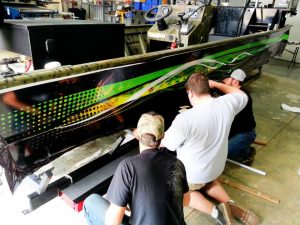 Your marketing impact is even further magnified with the implementation of a fleet wrap utilizing all the vehicles in your fleet. Metro trucks are seen by millions of sets of eyes each year. A vinyl fleet wrap, car wrap, or truck wrap provides more marketing exposure than one costly billboard.
NDesigns focuses on producing premiere graphic solutions for all types of vehicles. Whether you are looking to increase your organization's visibility through fleet branding or seeking a cost-effective promotional medium, our experience ensures a successful result. Our graphic artists have over 20 years in design and computer graphics. Let us assist you with developing the right design to fit your needs.
EXAMPLES OF OUR WRAPS WORK: